Blog - Lakeland University
LUJ Blog (564)
Your one-stop place for daily updates, reminders, and announcements.
Dear ALL LUJ Students,
As new semester starts from January 10th, please come to the 7th floor of main building and validate your student ID card after Jan. 10th. It expires every semester, so your student ID expires on January 9th unless you receive the stamp from the Administrative Office.
Some of you have not yet exchanged your student ID card in last semester which also means you have not yet updated the card by receiving the stamp from the office. It might take some minutes to transfer the sticker from old card to new one, but you need to come and update your card as the new card has more information printed on it. f you have any overdue payment, you cannot renew your student ID card so please make sure that you have paid all the payment to the school.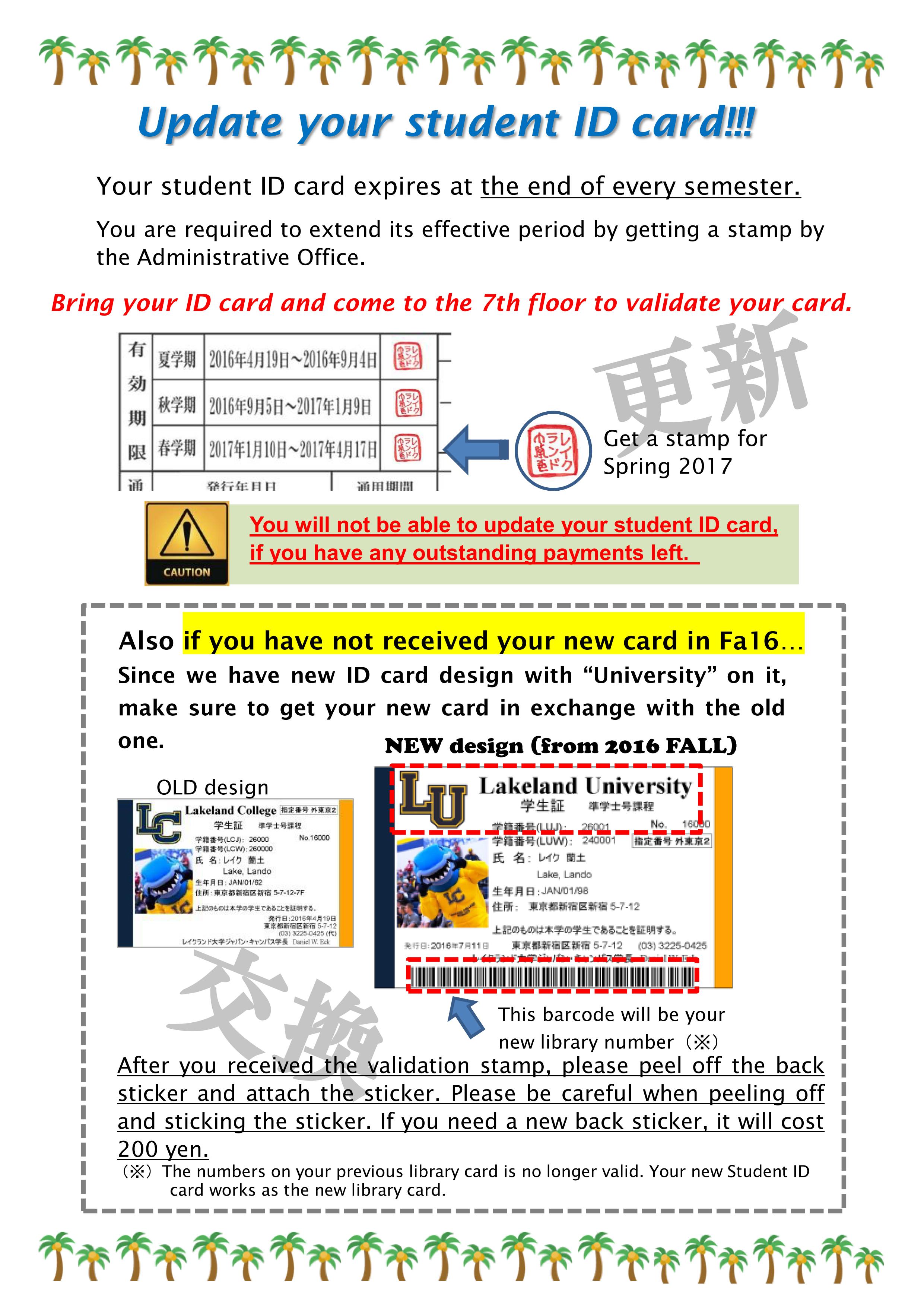 LUJ Administrative Office
More places for students to post notice
on the Bulletin Board!
The school has added more spaces for students to post notices inside of the main buidling. Please read the following guidelines before you start printing or requesting approval stamps for your posters.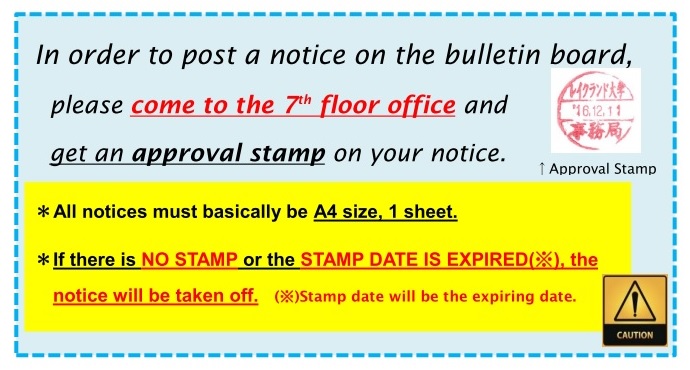 To All LUJ Students,
Starting in the Fall semester the Lakeland University Japan will no longer be able to translate documents such as the Official Transcript and Certification of Graduation due to a directive from the Provost at the Wisconsin campus. The material that you can use to translate your transcript on your own will be available for downloading through "Student Resources" soon.
Should you have any questions, please contact the Administrative Office.
LUJ Administrative Office
To all students,
We're delighted to announce this historic and memorable day of transformation for Lakeland.
From July 1st (Fri.), Lakeland College will become LAKELAND UNIVERSITY. A reception will be held on the 1st floor, and we encourage everyone to come and join in the celebration.
Please see details below.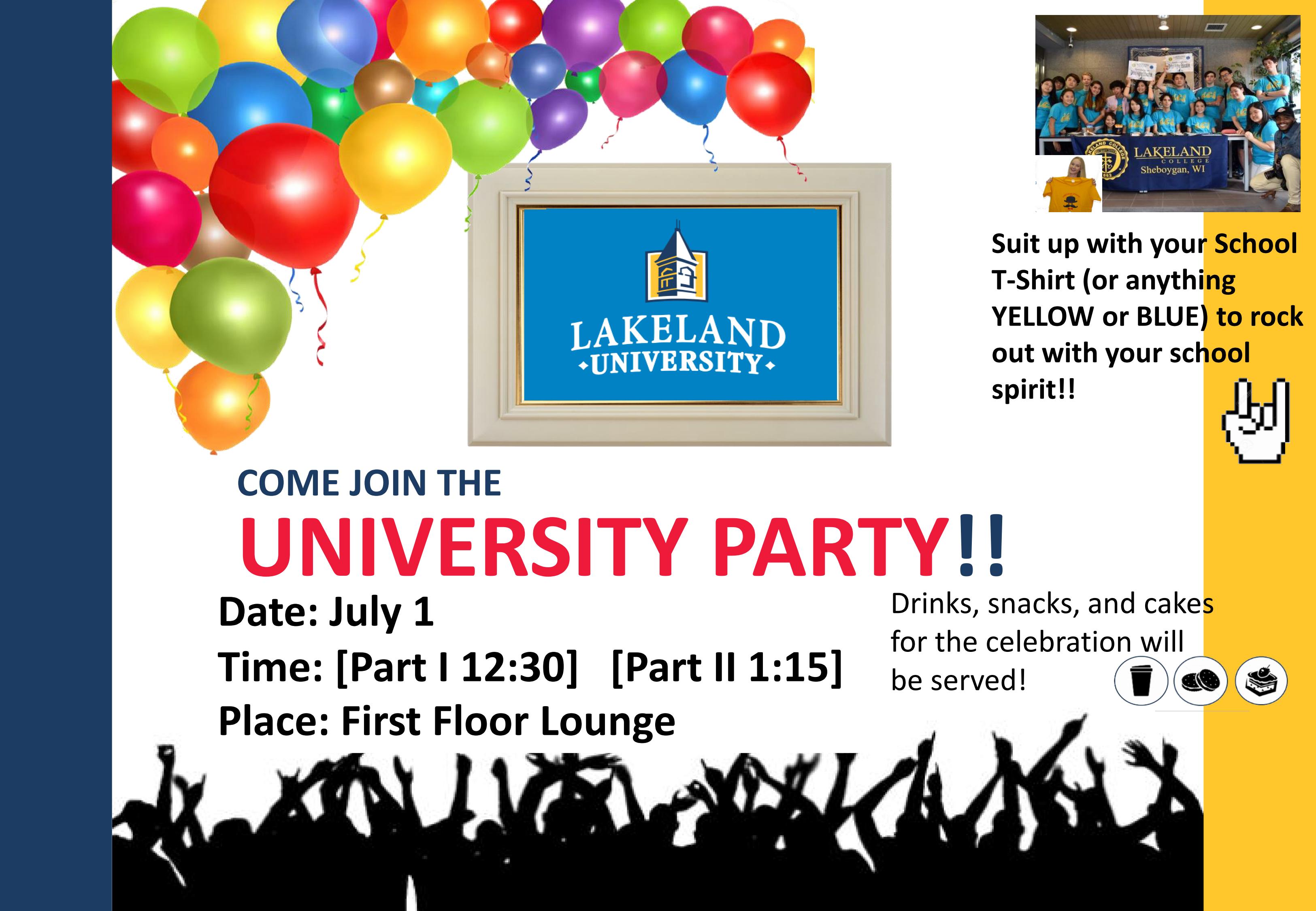 Please try to arrive at the start of the event, and come wearing your Lakeland t-shirt (either yellow or blue)!
Looking forward to see you all!!

Administrative Office