Articles
Anthonette Gibson, Ph.D.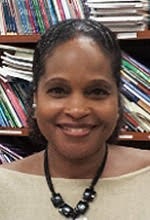 As a native of Washington, D.C., Dr. Anthonette Gibson is a social scientist who teaches sociology courses at Lakeland University (LUJ). She is a graduate of Howard University, which is a top-tiered research private university in Washington, D.C. She has published in the areas of aging in Japan, child labor policy, Social Responsible Investing (or Sustainable Investing).
Professionally, Dr. Gibson recruited for a congressionally mandated study on child abuse with a U.S. social science research firm. She also served as a Research Associate and Project Director for the federally funded 'DC-Baltimore Center for Childhood Health Disparities' in the Department of Pediatrics at the Howard University School of Medicine. In this capacity, she planned and managed research data collection for a study centered on psychosocial influences for low-income women.
Outside of academia, Dr. Gibson worked with the Agency for International Development (USAID) and the U.S. Peace Corps Federal Government Agencies.