Campus Access


So you're thinking of joining us in one of the safest big cities in the world? We are tucked away in a quiet corner of Shinjuku – the heart of Tokyo's entertainment district. The campus is perfect for commuting access, and the surrounding areas give the opportunity to experience contemporary Tokyo and all of its Japanese modern, artistic, international, and traditional offerings as well. One step into the campus as you're amongst friends and colleagues; a few steps out and a city of 35 million and unlimited opportunity is at your fingertips. New York may be the city that never sleeps, but Tokyo is the city that never ceases to amaze.

We are easily accessed from the numerous train lines that feed into Shinjuku Station and several others nearby stations. The Guinness Book of Records considers Shinjuku Station the busiest train station in the world – serving over 3.5 million passengers a day! In between the station and our campus you will find shopping, dining, entertainment, movies, art, museums, skyscrapers, gyms, and a whole lot more.

There's no need to worry if this is your first time in Tokyo, or even your first time overseas. Our new student orientations will help guide you to a smooth start to your college life here. From how to maneuver around the city, to how to get a cell phone and open a bank account, our staff are here to make sure you are ready for an unforgettable experience with us.


---
Shinjuku gives direct access to at least fourteen different train lines. Some even run through to connected lines; for example, if you catch the Fukutoshin Line, one of the closest to campus, it can take you north to Saitama through the Tobu Tojo Line, or to the mountain areas west of Tokyo on the Seibu Ikebukuro Line, or south through to Yokohama on the Tokyu Toyoko Line—all a ingle train ride away, no transfers. Most of Tokyo is directly connected to Shinjuku that way, and what's not is usually just a short transfer from there.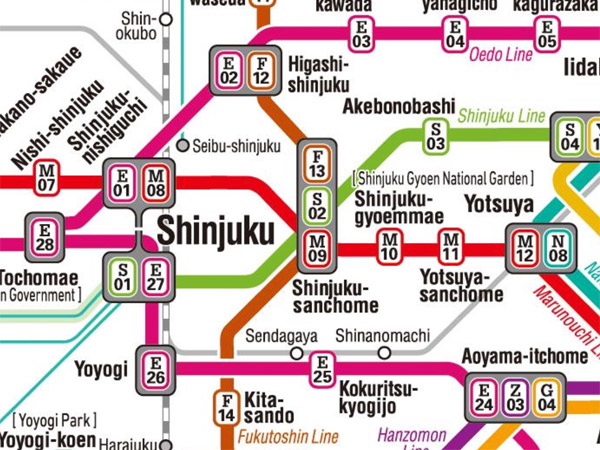 Train Lines in Shinjuku:
Yamanote Line
Chūō Line
Sōbu Line
Shōnan-Shinjuku Line
Saikyō Line
Narita Express
Seibu Shinjuku Line
Odakyu Odawara Line
Keio Line
Keio New Line
Marunouchi Line
Fukutoshin Line
Shinjuku Line
Ōedo Line