Articles
Current Issues
Welcome to Current Issues!
This is an intermediate level English class in which students discuss issues in the news. Each week students will read articles from newspapers and magazines, form opinions and discuss their views. Topics could include the environment, political issues, the arts or even celebrity news. Emphasis will be placed on increasing fluency and improving the ability to discuss current affairs, which is very important among English-speaking people.
このクラスは、ニュースの記事など時事問題について討論する中級レベルのクラスです。毎週、新聞や雑誌から抜粋された記事を読み、考えをまとめ、それぞれの意見を様々な視点で討論していきます。
題材は、環境問題、企業戦略、戦争、災害、スキャンダルなど今現在起こっているものを含めた幅広いジャンルに及び、会話のスムーズさやディスカッション能力の向上に焦点を置きます。これらのスキルは、ネイティブスピーカーとの間でも大変重要視されています。
Course Information
Day・曜日: Wednesdays・水曜日
Time・時間: 19:00 - 21:00
Class Code・講座コード: ENG5
中級
Meet the Instructor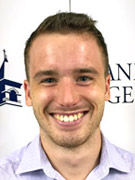 Originally from the U.K., Thomas Martin earned his Master's Degree in English Literature from the University of Edinburgh in 2012. After completing his degree, he worked as a writer and editor in the US and Canada until he moved to Japan in 2013. Since then, he has taught English as a Second Language at univerisities and organizations such as the Kanda Institute of Foreign Languages and Tokyo Metropolitan Government while teaching writing courses at Lakeland University Japan.
Student Voices
"This was a great class"