James "Stew" Stewart - Foundation for a Dream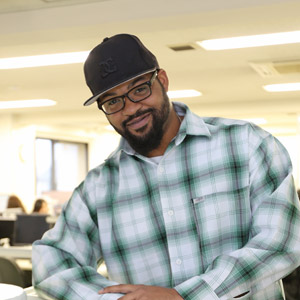 Ever since I was a child, I've had big dreams. Dreams of being a super hero, a ninja, a rock star. If you didn't notice, none of which had anything to do with being a college student. My whole life I never envisioned myself as an academic, and always wanting to become the next David Lee Roth, not really considering how the dream was to come to pass. As I grew older, my love for music sky rocketed until I had a realization: I needed a real job after high school. I joined the Navy merely for a paycheck and brushed off the idea that after ending my enlistment that I could take advantage of the G.I. Bill benefits. The thought never crossed my mind that the Navy would pay for my tuition and I could gain a degree.
After I served seven years in Japan, I returned to Texas with no job, money, or direction. The only thing I had an abundance of was my love of music and the idea of living the dream of getting paid for what I loved. I started a band and at first I felt finally I was on the road where aspirations are met and the end of the rainbow is found; but after I felt the sting of homelessness and starvation, I realized I was going about it the wrong way. After I raised enough funds to return to Japan, I was still directionless until I met an old friend on the street and he told me about utilizing my G.I. Bill benefits and going to a university in Japan. At the time I didn't even know that was possible.
He brought me to the Lakeland University Japan and at first I felt that I didn't belong because at that time it had been ten years since I'd been in a school environment. To my surprise, the staff and students accepted me with open arms and I fell into a state of comfort I never felt before. The administration staff are what I call gems because they beam with courtesy and genuine care for all students. The students of LUJ are very diverse and come from all different countries and walks of life. I myself have met some I will never forget and consider family.
Lastly, I must talk about the professors of LUJ. When I started classes, all of my professors were very helpful and were always available outside of class time if I ever had a problem. Furthermore, the Professors did more than just teach me the courses that I needed for an AA degree, they gave me direction in life and showed me the true path to achieving my dream. That's why now I am pursuing a degree in Music Education. Think of a dream as a house. You can build it as high as you want with as many rooms as you want, but if the house isn't built on solid ground, it will not stand. For me, LUJ is a place where solid ground can be found. Lakeland University Japan is a great place to find a foundation for a dream.