Martin Andersen - A Place for Knowledge and Growth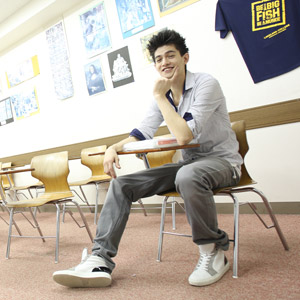 Before moving to Japan and entering Lakeland University Japan, I lived and studied in Tehran, Johannesburg, Gothenburg, Shanghai, Beijing, and now here in Tokyo. Living in Tokyo has been an amazing experience filled with new adventures, possibilities, and a culture that is separate and unique from anywhere in the world.
I decided to come to LUJ after discovering that the Academic Program offered in this school would allow me to continue learning in an international environment while under an American education system. Graduates from LUJ come one step closer in obtaining a bachelors degree and have the choice to do so in a university here in Tokyo or from a large variety of universities in America.
I am currently in my second semester and so far Lakeland has been an amazing learning experience and, I believe, an exceptional place for ambitious people who seek to make their futures even brighter. The size of the student body has made adjusting to my student life in Lakeland, as well as life in Tokyo, easier and less stressful.
Lakeland University Japan is filled with amazing teachers that have already taught me so much. The teachers as well as other staff members are always there to assist students in all matters concerning questions about schoolwork to offering help about living in Tokyo. It is certainly one of the most beneficial aspects about LUJ and I feel this is why this school will continue to grow in population and reputation.
I recommend Lakeland University Japan for anyone wanting to live in an amazing cultural melting pot as well as those who are interested in a higher education in the heart of Tokyo.