Upcoming Events

We love to reconnect with you. Whether it be an annual alumni event or a special one-time celebration, we love to catch up with our alumni.

LUJ and the Alumni Association try our best to make connecting easier. Check out the LUJ Alumni Association Facebook page to see when the next event is being planned, and always know you are welcome to drop by the campus to see how it's changed.
Here is a list of upcoming alumni events: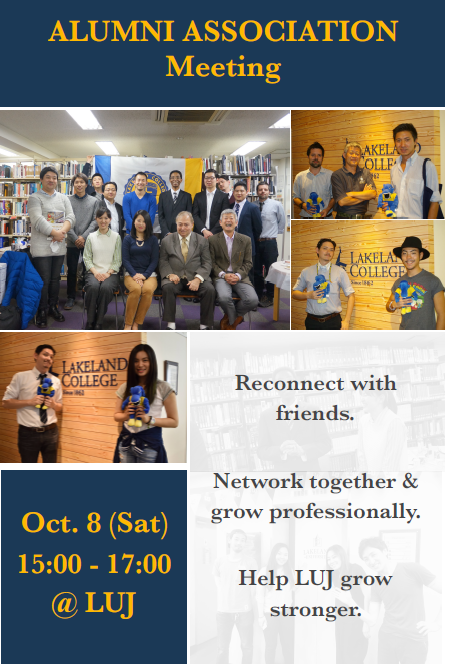 LUJ Alumni Association Meeting
October 8 (Saturday)
15:00 - 17:00 @ LUJ Campus
Open to LUJ graduates interested in joining the Alumni Assocation.
Reconnect with friends.

Help us plan annual and new activites that bring alumni back together.

Learn how you can help LUJ grow stronger through volunteering.
Register online at the LUJ Alumni Association Facebook event page, or by contacting Charlie Stockman at .
Fall 2016 Open College
LUJ Alumni discounts apply!
Learning doesn't have to stop after graduation. Learn more about LUJ's Open College, our 10-week program offered every semester for those looking to expand their knowledge and skills.


Enhance your awareness of other cultures.

Increase your knowledge of a specific subject or field.

Gain greater language or business skills.

Meet new friends interested in the same things you are.
For more information, visit LUJ's Open College website, or contact Bill Kurata at .