Tom Martin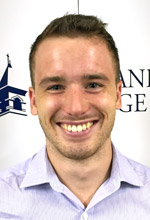 Adjunct Professor of General Studies
Miscellaneous Information
Tom Martin earned an MA in English Literature from the University of Edinburgh in 2012.
In 2009, he was awarded the Study China scholarship to study Chinese Studies at Beijing Normal University. Later that year, he was granted the Rajiv Gandhi Writing Scholarship to document his experiences travelling and volunteering in India. In 2010, he earned a scholarship to study American Literature at the University of California, Santa Cruz.
Prior to joining Lakeland College, he worked as a freelance journalist, copywriter, and editor, writing and editing for publications and businesses in the US and Canada.
His interests include travel writing, American Literature, and Brazilian Jiu Jitsu.