LUJ marks 25th Anniversary with major events
Lakeland University Japan Marks its 25th anniversary with spectacular Commencement and Alumni Reunion
This is a momentous year for the Japan campus of Lakeland University. It is the 25th anniversary of the founding of the campus in Tokyo, which has graduated well over 1,000 students, and it marked the changeover of Lakeland from a college to a university.
Dr. Steven Gould, founder of the Japan campus and president emeritus of Lakeland College, returned to Japan to attend two momentous events that capped the impactful year — a Commencement Ceremony at which a record number of students graduated and a notable 25th anniversary Alumni Reunion.
A special taped congratulatory message from Caroline Kennedy, US ambassador to Japan and the daughter of President John F. Kennedy, featured prominently at both events.
More than 50 students graduated, including eight Americans, 32 Japanese and 12 students from eight different countries, including the daughter of the Columbian ambassador to Japan.
Ambassador Kennedy, in her taped message, which was screened both at the Commencement Ceremony and the Alumni Reunion, displayed noticeable emotion when she referred to her father's visit to Lakeland College in 1960. "He would be very proud," she said, "to know that the small college he visited in 1960 has become a major force in international education."
President Gould conferred the degrees on the graduates and handed a diploma to each of them.
The next day, LUJ held the Alumni Reunion with over 130 alumni faculty and staff turning up. Many of them were from the 1990s. Every year from 1993, the year of the first graduating class, was represented.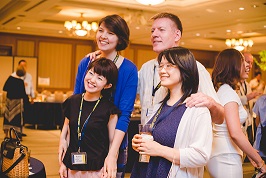 "Special thanks to the staff for being able to arrange an event that at least one alumni from every graduating class was represented," commented Kenji Mori (class of 1996).
"There was no better way to celebrate 25 years of history than walking into a room and seeing graduates from every year reconnecting with friends classmates and former professors," noted Mr. Charlie Stockman, Director of International Programs. "People were laughing, hugging and remembering their days as Lakeland Japan students the entire night. I think it says a lot about the impact Lakeland has on lives," Mr. Stockman added.
---
One alumnus, who had been nicknamed shacho (company president) when he was a student in Tokyo and later in Wisconsin, has lived up to his nickname and actually is the owner of several companies now.
Another alumnus has made a name for himself in sports. He won the title of the 3rd best in the world for his weight category at the World Karate tournament in Sofia, Bulgaria several years ago. He already had won the All-Japan best title.
Ms. Hanaka Murakami (class of 2002), who had studied at both the Japan and Wisconsin campuses, is also a noted sports person. She was awarded a plaque during the alumni event stating she has been inducted into the Lakeland University Athletic Hall of Fame for her superb skill at playing tennis while studying at the Wisconsin campus. In 2003, she was named Lake Michigan player of the year for holding a 11-0 singles and a 9-1 doubles record. As a Lakeland University Hall of Fame member, she joins an elite group.
"Many of our graduates are doing wonderful things. As a teacher, there is nothing more rewarding than seeing past students thriving out in the world," commented Jennifer Grubbs, an instructor in the English for Academic Purposes program.
One former faculty member, Ms. Barbara Turoff, flew from Los Angeles to Tokyo to attend the alumni event. Dr. and Mrs. Gould also flew from the US for the graduation and alumni reunion.
"When professors cross oceans to reunite with their former students," said Dr. Iskra Gencheva, a professor of Humanities, "you learn the most meaningful lesson of humanity; the lesson that makes us a better human community, the lesson that makes the human world humane."
Both Steven and his wife, Susan Gould spoke about their joy at being at this event and being able to reconnect with graduates from the distant past.
"I was surprised to see Stephen and Susan Gould at the event," said Mr. Mori.
Other alumni were also delighted to meet with the Goulds.
---
One instructor, Mr. Valdorian Cline, has been teaching at LUJ almost since the beginning — 23 years. He and Mr. Masanori Nakayama received awards for providing more than 20 years of service to LUJ.
"Although the years have passed since I graduated," said Ms. Satoka Day (class of 2004), "I was able to talk to my old classmates and professors as if I had only seen them yesterday."
A more recent graduate, Ms. Sayaka Sue (class of 2015), said that for her, she enjoyed developing relationships with new friends as well a catching up with older ones.
"Everyone in the room was reconnecting and laughing again with people they hadn't seen for years," remarked Ms. Akane Yoshikawa (class of 2002). "It brought me back to a time when I first met these people and started that chapter of my life."
All during the evening, alumni purchased raffle tickets to win such prizes as a two-night stay at a Westin Hotel in Guam, three free nights at a ski resort in Hokkaido, an iPad, and a variety of other sought-after items.
Towards the end of the evening, the lucky numbers were called and the delighted winners collected their prizes.
As the alumni filed out of the elegant banquet room of the Hyatt Regency Hotel, they received a tote bag filled with pamphlets, brochures and booklets describing LUJ's current students, faculty and programs. They understood their mission was to promote LUJ's programs.
ome of them were already making plans to attend a special meeting in early September to launch an official alumni organization and to elect officers for it. Another first in this momentous year.
---
LUJ would like to extend a special thanks to the various establishments and companies that supported the reunion, as well as our graduates and their careers throughout these last twenty-five years:
Westin Hotel Resort, Guam (www.westin-guam.com/)
Hyatt Regency Tokyo (www.tokyo.regency.hyatt.com/en/hotel/home.html)
Ki Niseko Hotel ( www.kiniseko.com/), Career Page at (www.htmniseko.com/careers)
Forst 6 丁目
Makkonet