Charles Laurier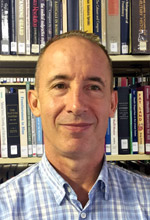 Lakeland Japan Librarian; Adjunct Professor of Art
Miscellaneous Information
Charles Laurier is LCJ Librarian, Learning Center Coordinator, and Adjunct Professor or Art History. He has Master's degrees in Library and Information Science from the University of Iowa and Art History, Theory, and Criticism from the School of the Art Institute of Chicago.
Charles [Mr. Laurier] teaches LCJ's Art History II course, as well as several courses in Lakeland's Open College, including courses on art, architecture, and film. He also teaches LCJ's three-part Research and Information Literacy seminar as part of the college's writing curriculum.
Charles has done research, writing, and presentations on several aspects of Tokyo architectural and social history, and most recently co-authored a book chapter (forthcoming) with Adam Tompkins on the conversion of the American military base at Tachikawa to Showa Kinnen Memorial Park.
Charles is editor of LCJ's online encyclopedia Tokyopedia, a student and faculty written resource providing information about all aspects of life in Tokyo. LCJ Clubs in which Charles is active or the faculty advisor include The Martial Arts Club, The Gallery Club, and the Re-photography Club. Tokyo Public History Research Project is a new initiative to give students practical experience researching and writing about various areas of Tokyo.